Manufacturing Management Software
Manufacturing (MRP) + Product Lifecycle Management (PLM) + Quality + Maintenance
Smart manufacturing platform from manual to automatic
Demo phần mềm quản lý sản xuất
​
01
Lập kế hoạch chính xác dựa trên số liệu thực tế về thời gian sản xuất.
​
02
Display spreadsheets,
quality warnings for workers during operation.

​
03
All-in-one:
Manufacturing,Quality, Maintenance and PLM are fully integrated.
​
04
Automation of production machinery.
Real-time data capture from your production equipment

Manage Orders/Work Orders


Production
Orders Manage from Purchase Orders to Work Orders by automated or manual assembly lines.

Production order

Automatically create production / re-supply orders... items, materials (NVL) needed to complete the product. It is possible to edit/add NVL generated during production.
Repair/Warranty
Manage repair of covered products or provide repair/Warranty services.

Barcode
Use barcodes to speed up production: scan product batch or serial number, start/pause/stop a stopwatch, trigger a maintenance request, go to the next step, etc. ..
NVL recovery/disassembly on finished products
Easily create disassembly orders for finished products to recover NVL or production components.


Production planning
Get an overview of your entire plan and easily reschedule production.
Arrange work orders
The software allows access to all available resources and plan with your production.
Sort the list of materials
Track the availability, inventory of items in the Warehouse, and lead times.
Job Control Center
MRP scheduler to schedule jobs at each work center, based on their OEE and production capacity.

Manage multi-tier NVL norm list
Easily create and track Norms for each finished product, semi-finished product, auxiliary materials...
Manage changes in production version

Allow your product to evolve into different versions to accommodate the versioning option when creating an order.
Optional routing

Create and configure routing for orders to line up the production chain depending on your business's routing.
Kits

Using the Kits feature, salespeople will be able to sell delivered products as kits for assembly.
Create versions
Easily track changes, differences between versions
PLM
Keep track of product and ECO versions and corresponding documents. Merge different ECOs using the same BoM.

​ Thay đổi kỹ thuật
Follow the process of creating technical changes on the Kanban interface for ECOs.
Document Management
Store planning data, spreadsheets directly on the BOM, and routing and quality related documents.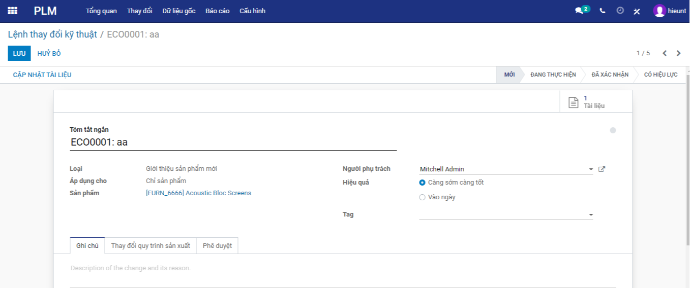 Automatically activate quality control activities at stages in the production process by:
Define a quality control plan to trigger inspections at inventory operations: receiving and final inspection or production operations: in-process inspection.
Set up process from A to Z and check on quality control plan.
Manage and track the production part approval process (PPAP). Statistical Process Control (SPC). Attach failure mode and effects analysis (PEMEA) documents to the routes.


The streamlined Kanban interface helps you see quality alerts during production. Drag and drop alerts to report progress and use visual indicators to focus on important alerts.
Use tags to group quality alerts and create rules to automate alerts or actions. Group by recipient: designer, supplier, process; On-Demand Grouping: Customers, Mainstreams, Substreams and more.
Check quality

Easily deploy control of your statistical process with different test modes.




The software calculates standard statistics to help you plan preventive maintenance, including mean time between failures (MTBF), mean time to repair (MTTR) and expected date of failure. next failure, and allows you to automatically schedule measurement and preventive maintenance.
Easily track the progress of maintenance requests using the Kanban view and use the drag-and-drop interface to quickly organize maintenance requests.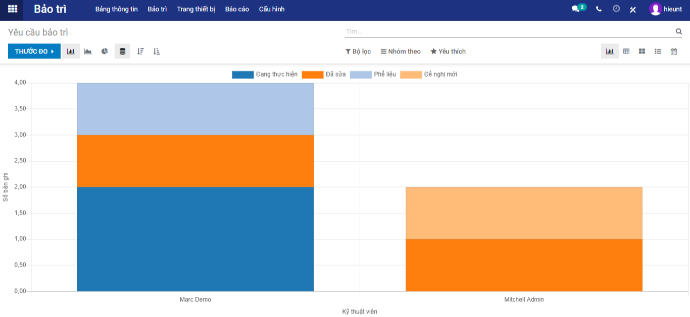 Manufacturing departments can trigger
maintenance requests directly from their work center console. Maintenance activities will be updated in real time thereby reducing downtime and increasing overall equipment efficiency.
Get calculated maintenance statistics
such as MTBF to reduce the risk of equipment failure.
Monitor performance
with dashboards.
Easily create custom KPIs
in just a few clicks.

Tablet
Put a tablet on each work center to stay organized
Record the production
Register production, scan product, lot or serial number.
Spreadsheet
Display the spreadsheet directly on the computer with instructions for the operator.
Other activities
Eliminate defective products, generate quality alerts, and perform productivity checks right from the work center.
Warning
Use alerts to show changes or check quality to the operator.

Seek an origin
Get a full upstream tracking report on components used in the manufacturing process.
Cost Analysis
Track the cost of each production order by cost of components and operating costs (labor or material)
Overall efficiency of the device

Analyze production unit capacity, yield loss, and monitor overall equipment efficiency (OEE)
Khám phá
Chúng tôi luôn xây dựng các sản phẩm tuyệt vời để giải quyết những vấn đề kinh doanh của bạn!







+ 1000 Customers
SIGN UP FOR A CONSULTATION/DEMO